This time last week, I was roaming around sunny Lake Buena Vista while Rose was in Gainesville. Today I'm back in cold New Orleans (huh?!) and Rose is in snowy Vienna (less huh). Can't believe it's been a whole week. Anyway, the rest of the pictures I'm putting up are up over at photobucket. Included the link there in case you're lazy. 😉
I'd like to thank the Catholics for not making Easter in February. Mardi Gras would really suck if it had to be this time of year…. And, also, I'd like to thank January for living up to its reputation as my least favorite month (except for Jan1-Jan9 this year of course).
So what did we do? Well, when Rose was at UF, I went to Downtown Disney, and the Carribbean Beach and Saratoga Springs resorts. I headed back to Pop Century at 5pm to rest and watch tv, and Rose drove back through the rain to pick me up around 7. We brought the car back to the airport, got on the Disney Magical Express (say: airport shuttle) and headed back to the hotel. We then went to dinner at Planet Hollywood.
Thursday we got up early and got to Hollywood Studios right as it was opening, and got our FastPass for Tower of Terror, then went on Rock and Roller Coaster twice in a row. Then off to Tower. Spent the whole day at the Studios doing lots I haven't done in a while (Indy stunt show, Backlot Tour, etc). Had dinner at Mama Melrose's, followed by Fantasmic, and back to the hotel. Perfectly timed, Rea called 15 minutes after we got back to the hotel, to "concert call" us from Chickie Wah Wah for the announcement of this year's Krewe of Bikeus Royalty. This year's royalty is
US! Holy crap.
So we celebrated with this
which I had delivered to the room on Tuesday while we were out. It was meant to celebrate our "anniversary" (of 7 months…), but we added Bikeus to the celebration.
Friday we picked up our race stuff and headed to Animal Kingdom until 4. Then we went and had dinner in the UK in Epcot at the Rose and Crown Pub, and spent the rest of the night there. Even though the extended magic hours kept Epcot open til midnight, we left after the fireworks at 9 so we could get some sleep before waking up for the half marathon.
We woke up at 2:45 and headed down to the bus around 3:30. Yes, a.m. As you can see in my tweet it was quite congested getting from the drop off point to the corral. Initially I was in G and Rose was in F (out of a total of H), but she decided not to run, and walked with me, so she snuck into G. By the time we started it was about 6:15, 6:20. We walked most of the way, with a little jogging. Mile 2 was the hardest to get through, which is normally the way with me. Once I get past the first few miles, I'm good. Mile 1 was pretty easy, but mile 2 I had to slow down. I was a little worried about making it the whole way. But I know myself, and I know if I push through miles 2 and 3, I can go an undetermined distance. And, as of Saturday, that distance is just about 13 miles. I must admit, it was fun to actually have people cheering us on…high school bands, random people, characters, fake Epcot (an Epcot hot air balloon that from a distance looked like Epcot just when I was thinking we were gonna be on Interstate 4 all the way and that the "going through the parks" part was a lie and said oh there's Epcot but it really wasn't…) I tell ya, going through the parks really saved me. It made it feel like I wasn't doing a marathon at all. 🙂 What also saved me was that there were SO MANY people who were doing our pace. Sure, there were those people who were making their way to the finish line when we were still on mile 3 or so, but there were also over 1,000 people who finished behind us. Our final time was 3:27:28, an average of 15.92 minutes per mile. (I know the clock in the pictures says 4:06:00, but that's because we don't start with everyone else.) We were wearing our Saints jerseys, so every now and then along the course we'd hear "WHO DAT!" And, when we crossed the starting line, the m.c. saw us and said, "Who Dat! Who Dat! Who Dat gonna run 13.1 miles!" 😀 We walked most of the way and would jog for a minute or two every now and then. After around mile 9 or 10 I was done with the running every now and then, but we still made it in time. But we did run the last few yards or so, as you can see in the video below. We come into frame around 4:06:00.
After we finished I was looking for the beer and nachos tent, but apparently that only happens in New Orleans races? Hm. 😉 We got our snacks and sat down to eat them. I was fine until the point that I had to get up. If I hadn't sat down, I coulda kept going. But once I stopped, it was REALLY hard to get going again. And I knew that would happen, which is why I didn't go to the restroom on the course. 🙂 But we started moving again, and walked from where we were, the Epcot parking lot, to Epcot to catch the monorail to the Magic Kingdom, where we got some ibuprofen and some lunch and went on a few attractions. As per tradition, we finished the park-day off at the Haunted Mansion, where the ride stopped for like 10 minutes (AWESOME!!). We were gonna go on Pirates next, but the line was too long and I didn't feel like waiting, cuz by that point I was done with the crowds and didn't really need to go on anything else. Just wanted to get our Dole Whip, head to the ESPN complex to see if they had the "I DID IT" shirt that I wanted (they didn't…didn't get it the day before cuz I didn't wanna jinx myself, not finish the race, and feel like a liar), and then headed to Narcoossee's for dinner. Awesome dinner. Expensive "thank you for the Disney dining plan" dinner. Headed home and crashed.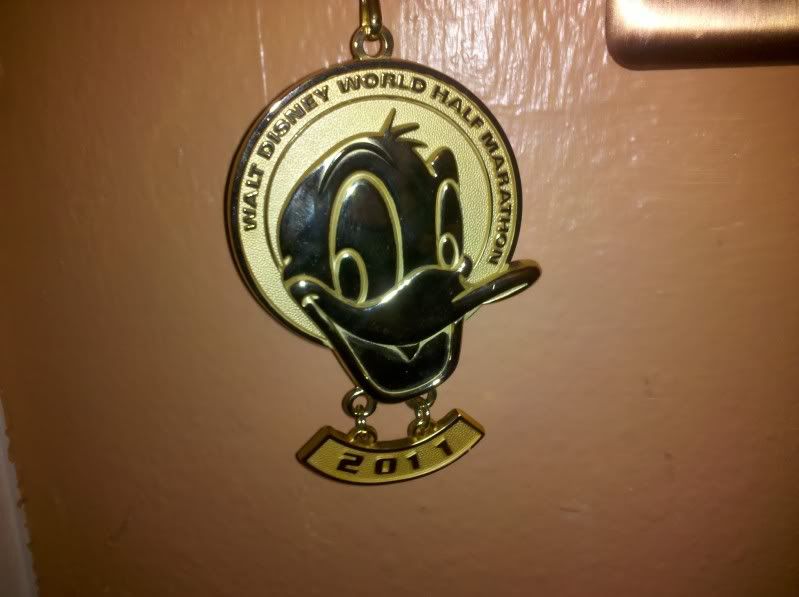 Oh yeah. The Disney parks for the past few years have had an "I'm Celebrating" theme, where you can get (free!) buttons based on what you're celebrating. When we went to Disneyland in 09, we got the "just engaged" buttons, and i got a "happy birthday" one. This time we got "happy anniversary," and after finding out about bikeus, we went to the Magic Kingdom and got these write-in buttons:
There are more pictures that I snagged from the official race site here.
We wandered around Downtown Disney and went on a water mouse boat ride on Sunday, stopped off at the Polynesian, and then headed back to the hotel to catch our ride to the airport. Even though on different flights, we ended up leaving out of the same gate, right after having dinner (sorta) right by the gate. Then I got on my bumpy flight home to 40 degree weather and rain, and Rose went back to VA where she had to dig her car out of snow. Or something gross like that.
Anyway, I really wanna win the powerball so we can do that 52 weeks a year.
Next stop: Mardi Gras!!!
Last 5 posts by jeff