…but I'll spare you from any April Fool's Day jokes or pranks. There will be none of that from me! Hm. 😉
I can't believe it's been over a month since this thing was updated! Ok, yes I can. There was Mardi Gras, and St. Patrick's Day, and St. Joseph's Day….the parades kept going 2 weeks after Mardi Gras was over. Gotta love it!
Rose and I had a great time hanging out during Mardi Gras with our families. Sure the weather sucked for Endymion, but we partied anyway, that's to Gwen and Dennis, my parents' neighbors, and Martin Insurance, as well as Johnny and Abbey Sanchez, and our Bikeus friends, who even made it on the news for having a party even tho there was no parade. You can watch that here. And Sunday we got a good spot for Bacchus and Endymion even though we didn't get out there til about 3pm, so that was most excellent as well.
You can read more about Mardi Gras Day and the Krewe of Bikeus 2011 here. Be sure to go to the pictures page and click on 2011. You can find more of our mardi gras pictures in our photobucket.
Rose was supposed to leave on Wednesday, but because of weather delays she would've missed her connecting flight, so she got to stay an extra day. Woohoo! So instead of flying out of Gulfport, she flew out of Baton Rouge. 😛
Of course that weekend I went to both the Irish Channel parade on Saturday and the Metairie Road parade on Sunday, and even made the Irish-Italian parade the following Sunday. Then I crashed. 🙂
This past Wednesday, I worked with Carrollton Station and The Susan Cowsill Band for a scene on Treme.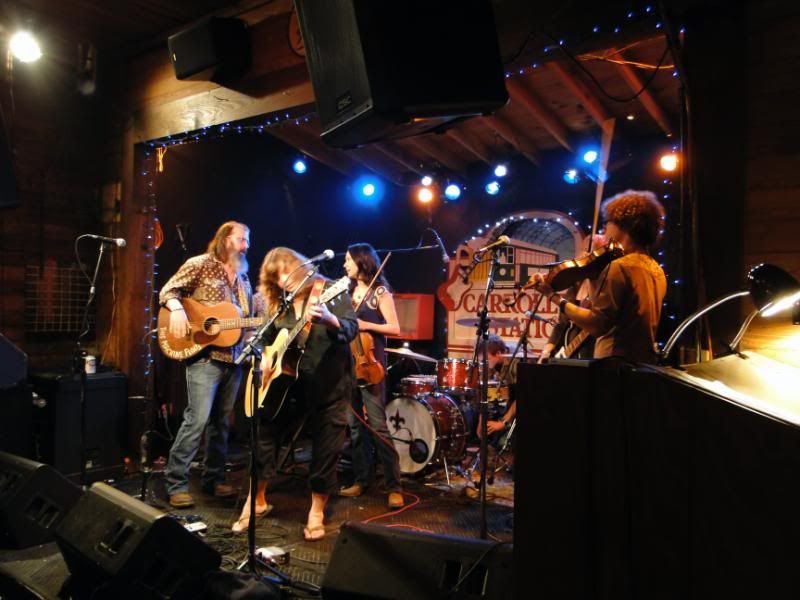 So, what i ended up doing was basically about 20 minutes of work, setting up the stage, getting susan's guitar set up, and telling the guys doing the actual mixing what to give them as far as monitors goes. Which, basically, was pretty limited.
We used our stands, mics, and cables. Ran them into Treme's snake, which went directly into their board. They gave me one channel to send to all the monitors, which meant everyone had all the same stuff in their monitors. Then they sent their "main mix" back to our main board, which we played through the house, for their boom mic, which you'll see in the pictures on photobucket, to pick up.
Other than that, it was a bunch of shoots of just believe it, then dialogue with steve and lucia, (apparently "annie" had written a song and susan wants annie to play it but it wasn't "ready yet") and so they go into crescent city snow. Which was always cut right during the line "singing joanie at the Carrollton Station." not sure why.
Anyway, there were extras there as an audience, but not very many for most of the shoots, b/c the camera track was set up even with where the wall ends to go over to that side corner, so whatever could fit in front of that, including a very bobble-headed Paul, was the crowd. There was that camera and one hand-held, which shot mostly from the carrollton side, and a handful of times from the monitor board side, and once or twice from behind the monitor board. Then they later did a longer-range shot, so they brought in more "crowd," and tiffany the bartender got to be a "waitress," carrying burgers around. We didn't get to see those shots cuz of where the cameras were.
The band consisted of susan, russ, mary, jack craft on keyboard, sam craft on violin, steve earle on acoustic, and lucia micarelli on violin. Yes, a 7-piece.
When dressing the set in the morning, they had originally put amber twinkle lights all over the place (b/c "every bar in new orleans has amber twinkle lights" in treme), but later changed them to blue b/c it looks better blue. they also put a clip light on the monitor board. i was up there when they did it, and the guy doing it said, yeah, this guy's important, he gets a clip light….but wait (grabs another one and puts it on)… he's REALLY important. he gets TWO clip lights." knowing "that guy" was basically gonna be me, and without him knowing that, i said, "aw c'mon, nobody's THAT important." "oh no. this guy is." 🙂
Tim, who is a "decorator" on treme, who got me the job with chess, whose main job is to decorate but also to un-decorate…take all the 2011 out…said that they had been filming a bunch of "bounce" scenes, and even when they go to the most ghetto of places, they still use their systems, b/c they want it to be "real."
And aaron, who got me the union pay for chess, also does sound stuff for treme, so it was good to see him again.
Before they did the long-range shot, someone came up to me and asked if i worked there, and if i wanted to be an extra. i said well i'm already kinda doing something, and he asked don't we have a bartender here, yes, and if she wanted to. So i brought him to tiffany, and that's how she got set up with the waitress gig. So i asked him who i had to talk to about signing paperwork and getting paid and all that. He referred me to one person, who asked me what i was doing, and i said basically i'm with the band (b/c really, i didn't know what to tell her, since this was only arranged the day before, over text, with russ), so she said talk to so and so, who eventually said talk to so and so, and then i found and asked russ, who said talk to so and so or so and so, so i found so and so number 2 first, talked to her, figured out that i was the band's tech, then she talked to so and so number 1 that russ had been coordinating with all week, he said yes, then she gave me the paperwork to fill out, and russ got all their paperwork to fill out, and everything was set. Then they did the long range shot a couple of times and by 630 or so they started to pack up and go to their next location.
We all hung out at the bar waiting for bartender lillian to get it all set up so we could have a drink. because the drinks the extras had were non-alcoholic beers in real beer bottles… so by 730 or so eric bought us all (the band, minus steve and lucia, and plus jack's fiance lindsey and sam's girlfriend alexis, plus me) a drink.
The "kids" left soon after. russ, susan, mary and i went to basil leaf for dinner, where they ran into 2 couples that they knew, who didnt even come out for the shoot…random. Mary ordered a malbec, and susan told her that she's "jim and franning." lol. And susan called her mix of soy sauce and a ton of wasabi "pudding," and i said it looked like the fairgrounds during jazz fest on a rainy day. yeah. it was like that.
Then i left, took the dogs out, and immediately crashed. fun day, but i couldnt make a career out of it.
Don't worry. These next few weeks will have more blogs. I'm not gonna leave you hanging that long again. 😉
Last 5 posts by jeff