Been a slacker again, so here's the what-seems-to-have-become quarterly (or in this particular case, tertilely, if that's even a word) update. Got a lot to cover here, and lots of other stuff to do, so I'll be kinda cliffs-notes-y.
Christmas was 4 months ago. We got a lot of Saints stuff.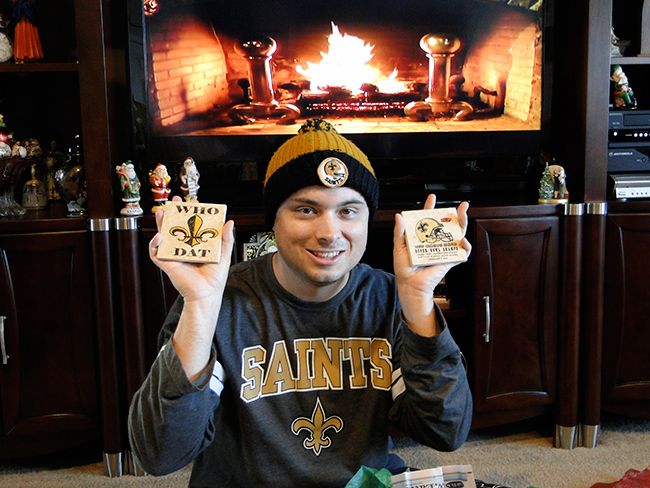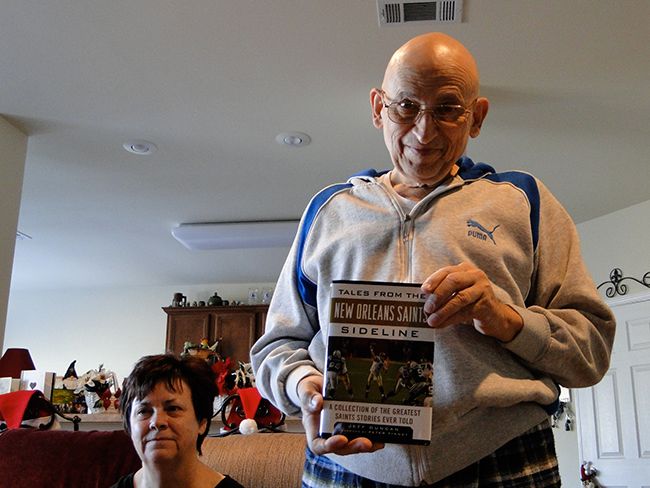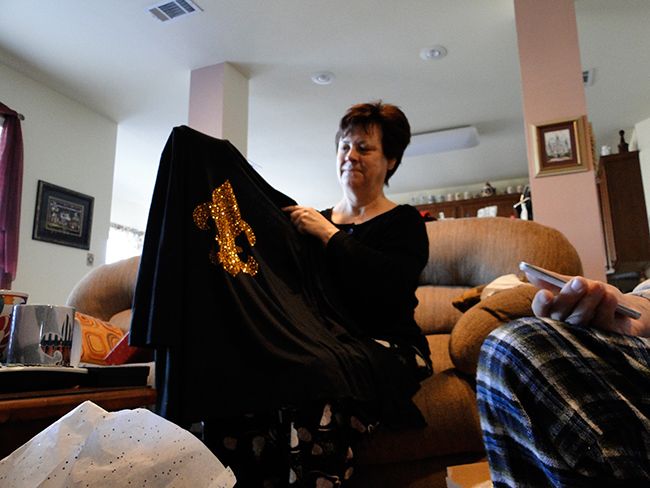 New Year's Eve was about 112 days ago. On our way to downtown Gainesville, we saw this dog, leash attached, running across what would be a busy street if it weren't 9:00 at night. We decided to turn around and try to follow it and see if it would come up to us. Well we found him and got out of the car and he came right up to us. We tried to call one number on his tag, but got a voicemail. We took him home, and were gonna leave him there, but then we noticed another number and deciphered it (it was pretty worn out) and called it. The person answered and yes he does have a dog named Jackson. Didn't realized he got out. We brought him there and dropped him off, all while the cat on the porch looked at us like, "UGH I thought I finally got rid of that dog!"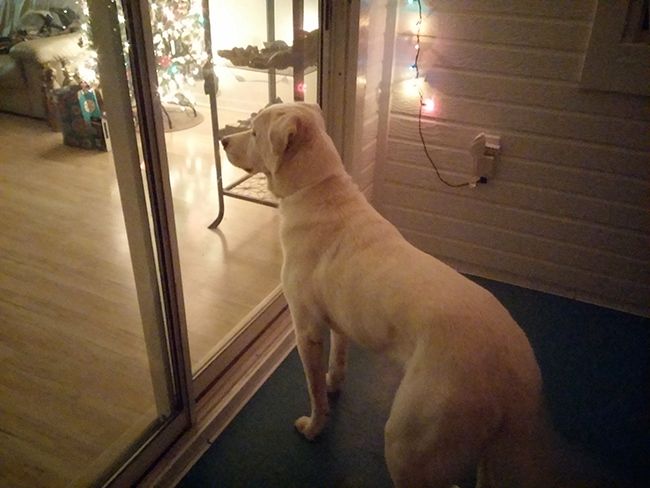 Then we continued to our original destination and had a happy new year's eve. Happy New Year, everyone!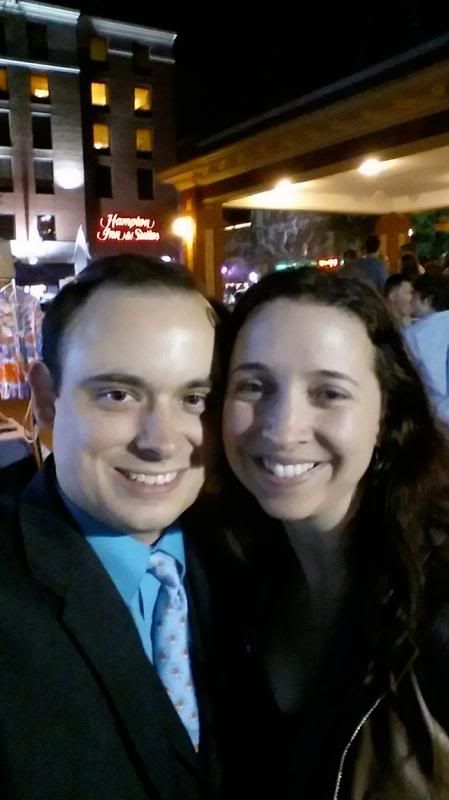 One of the places Rose interviewed was in Miami. It was nice, and we really liked the people at the practices. Here's a shot from the top of our hotel, and a couple of pictures from not far away.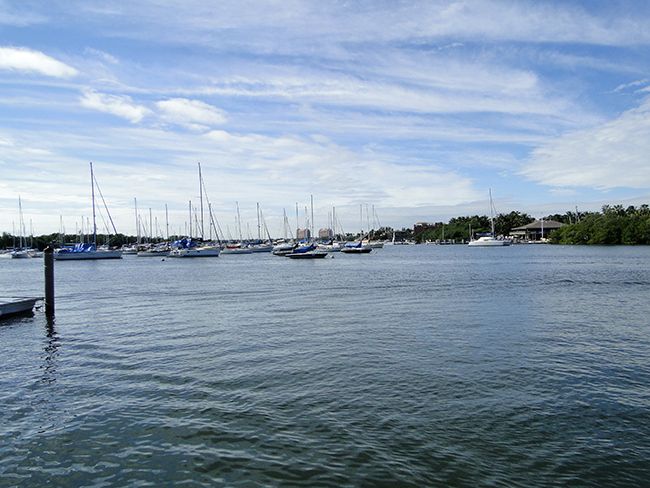 Then we went to Dexter Fountain…it's actually listed on google maps that way. It was used in Dexter tv show. And rubber duckies floating all around the fountain don't scare all the seagulls that hang out there.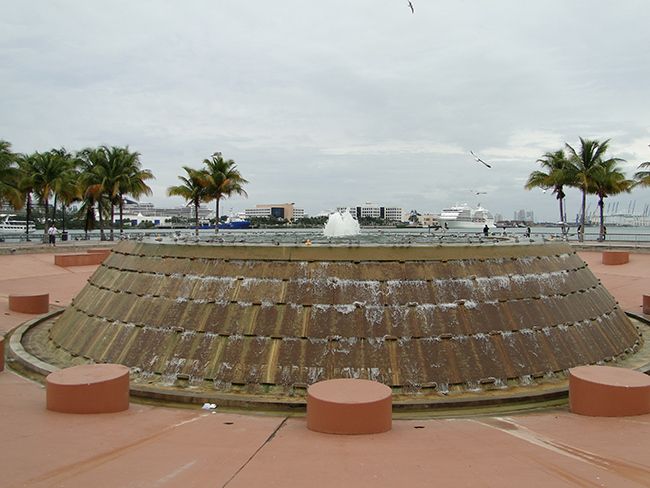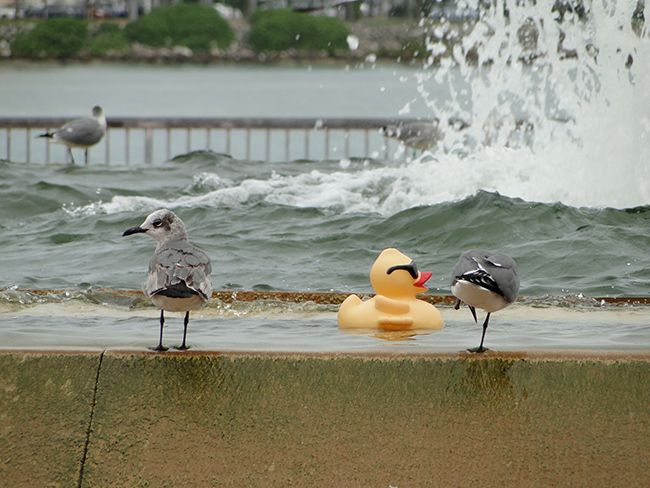 Leaving Dexter fountain, I got my arm stuck in this giant butt.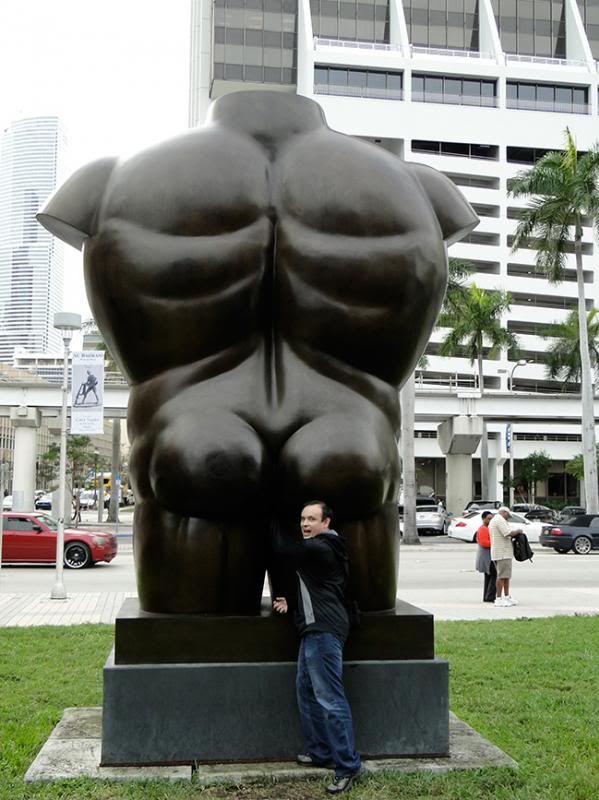 But then Rose rescued me and we took our picture by some boats.
A couple of weeks later I was in Orlando for Nanci's birthday celebration featuring Paul Sanchez and the Rolling Road Show. And to watch some football game that I won't mention.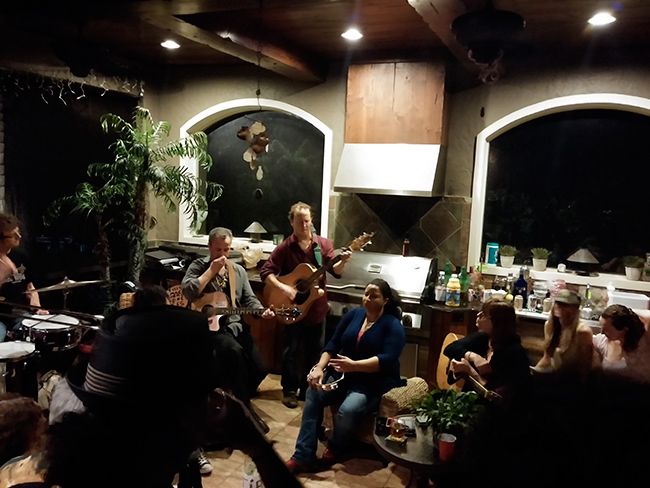 After that we went to San Francisco for some more interviews with more wonderful people, and to LA just to visit our people there.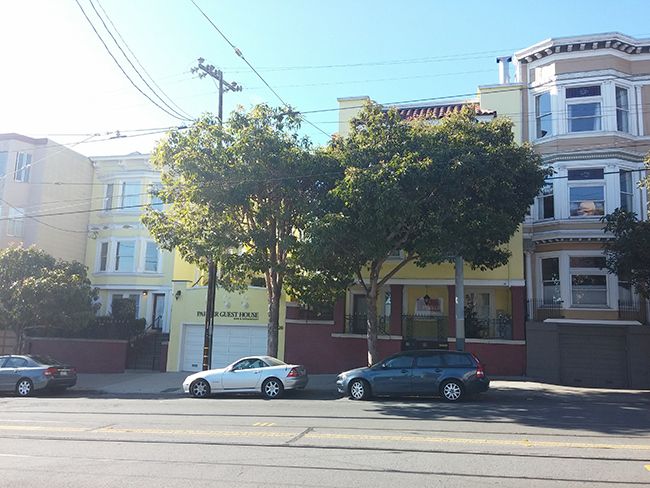 In LA we stayed in this swanky neighborhood.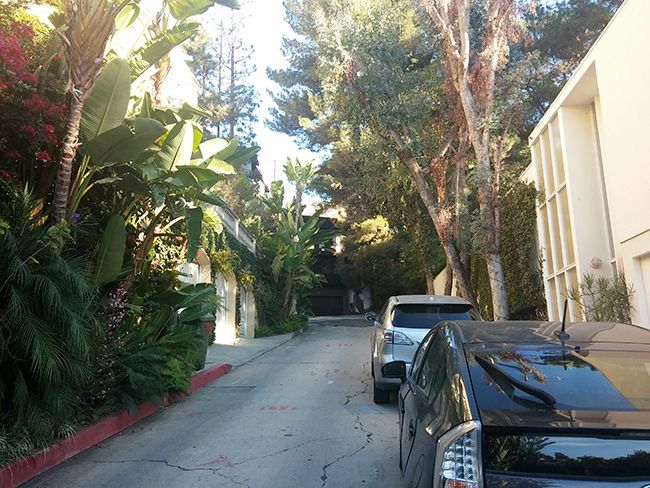 We went to see the Groundlings, and left at intermission because our friend Mike was performing at a place less than a mile away, and we met up with Ken to see Mike play and hang out after.
One day we went to the beach and walked to the Santa Monica pier.
We also went to LACMA and Rose almost got cooked in spaghetti by a giant Italian.
And there was no shortage of tall lights.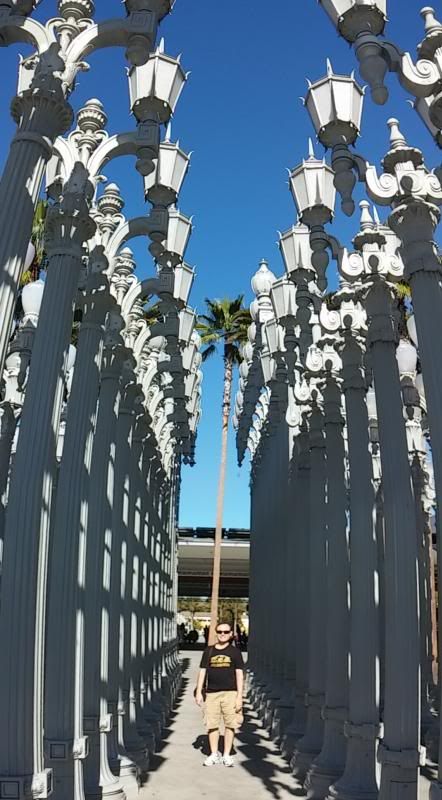 We swung by Meltdown Comics too. Unfortunately no podcasts were being recorded, and we just missed the Weird Al @Midnight by a few days.
Greystone Mansion was pretty cool. And right down the fancy street from where we were staying.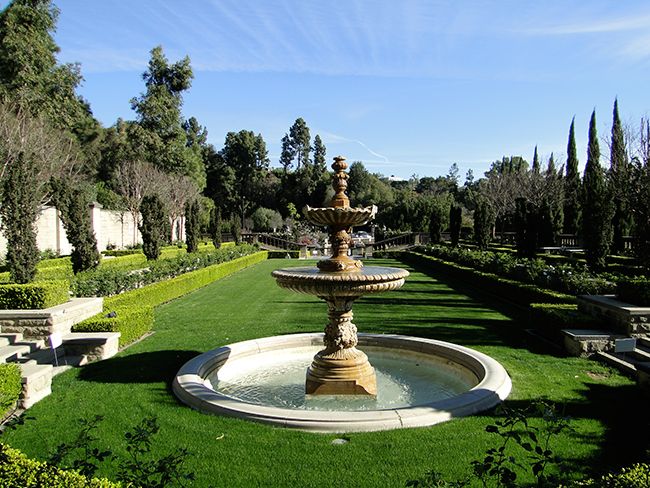 Rose met a friend at the LaBrea Tar Pits.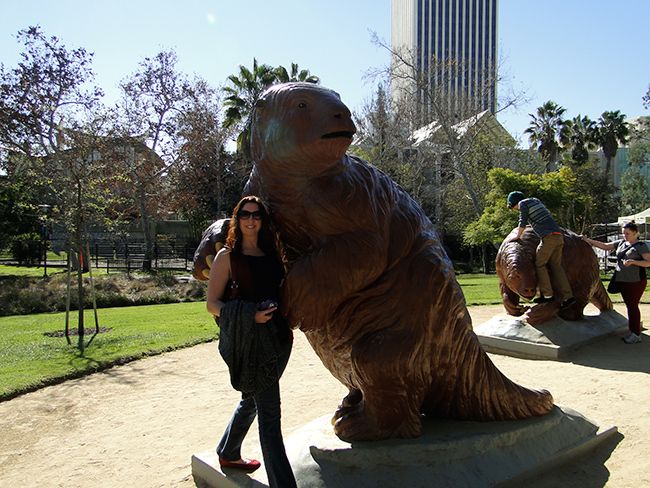 I met two friends there.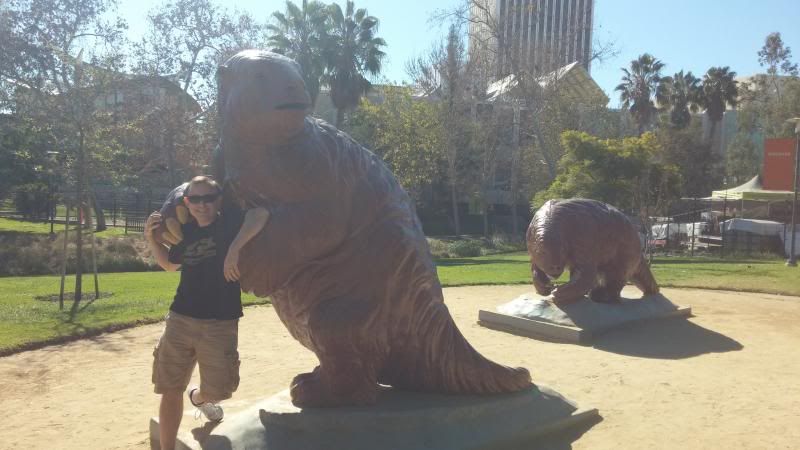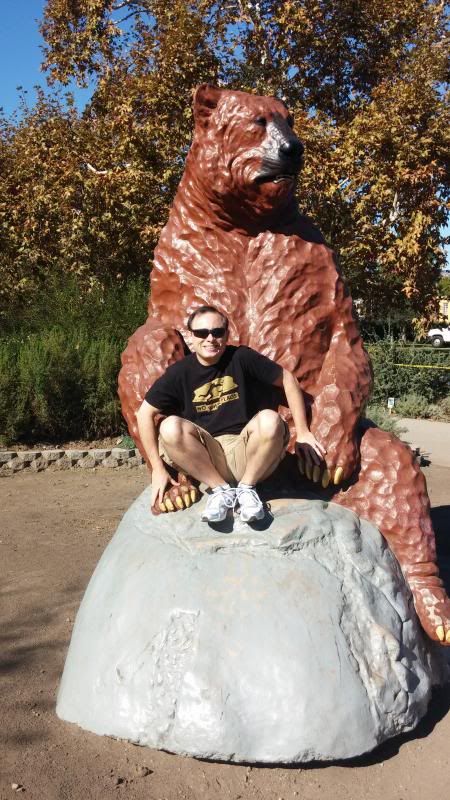 We also met up with this guy, Geoff LaTulippe, who wrote the movie Going the Distance. You should see that if you haven't already. He also brought us a signed movie poster. Not bad for just randomly following someone on twitter….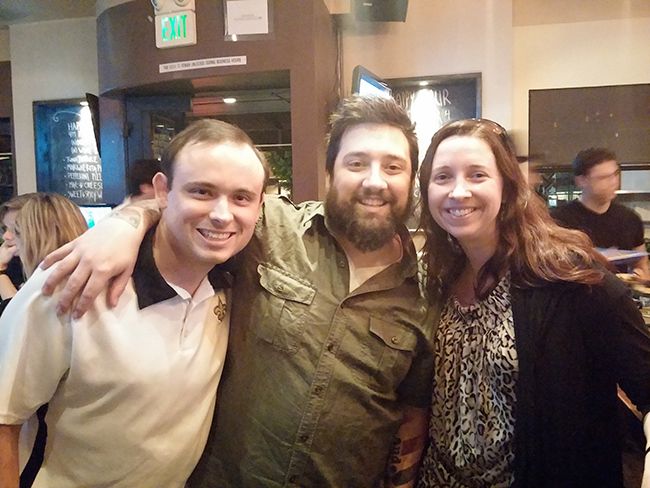 While we were out, the HOA in Gville put a new roof on the houses in our neighborhood. Sweet! Except all the hammering knocked down the tube that goes from the sunroof roof part to the sunroof ceiling part in our bathroom. Not their fault, really, it wasn't really in there right. Looked like it had come down before and someone just duct taped it in there. So I put some screws in it where it connects and settled that problem.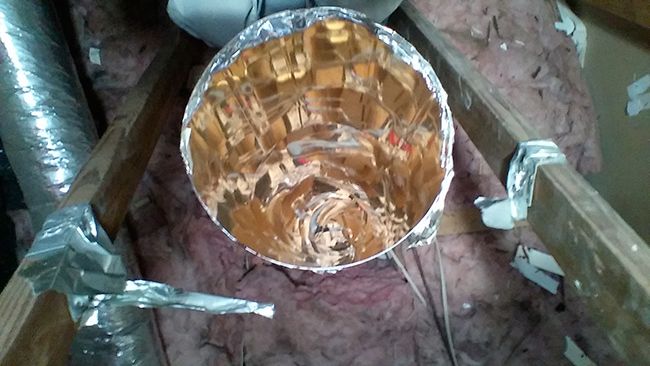 I got home from Florida and hell had frozen over. Good job, January.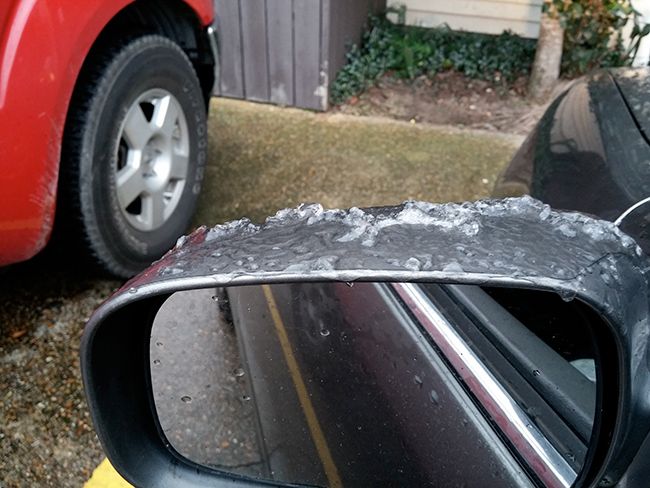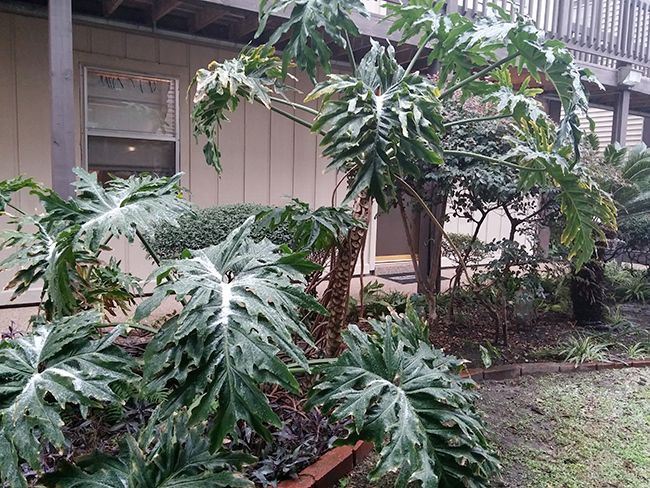 We had 2 "freeze" days, so I used the time to put vinyl tile in the condo. Sure is a lot better than old carpet and cement.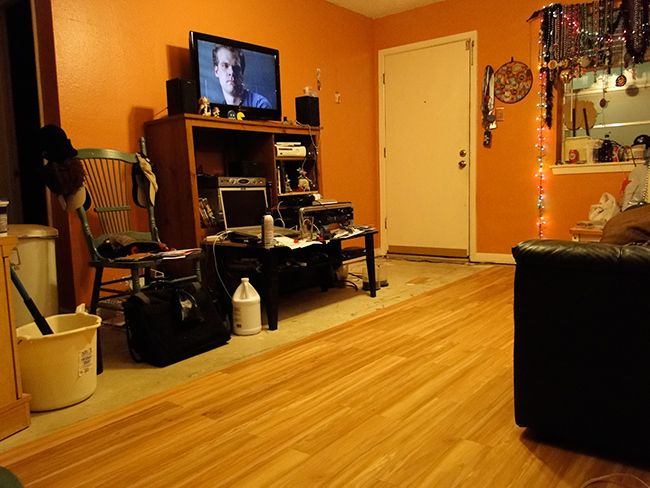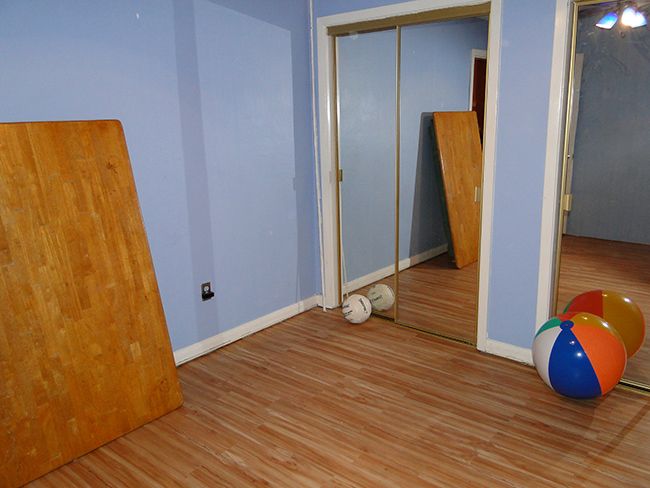 I worked the 610 Stompers Debutante Ball too. That was fun. Like being at my 8th grade graduation party. Unfortunately I didn't win this guy.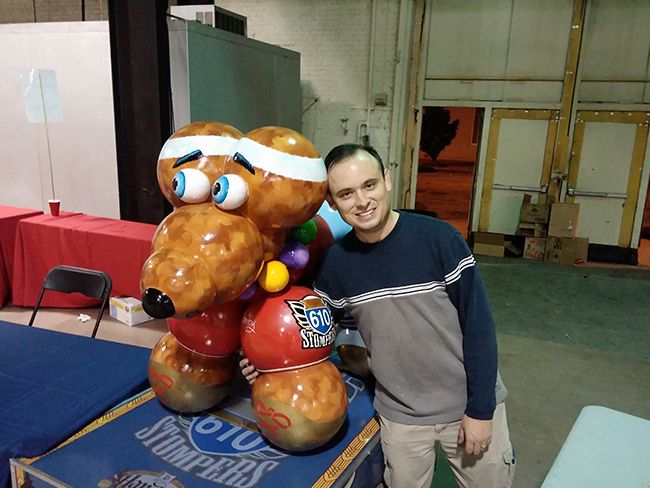 The week after that was a Brown reunion show. The first time since, like, 1998 that all these people were on the stage at the same time. I can't even begin to tell you how awesome, and perhaps bittersweet, this night was.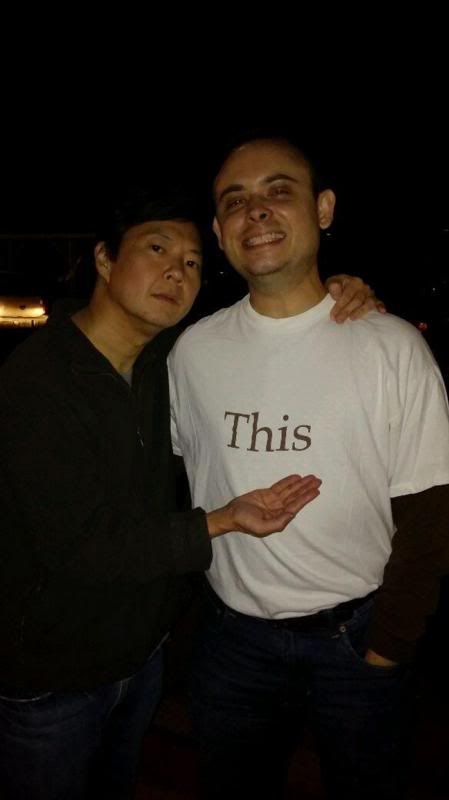 Then it was (finally) time for mardi gras, and Rose celebrated by getting a new car.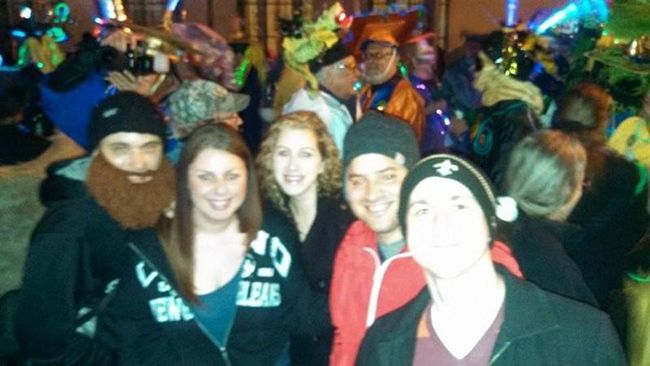 It was cold Wednesday, Thursday, and Friday…
But warmed up nicely and Saturday and Sunday were perfect. But of course Rose was sick and missed it.
I consoled myself by buying beer. If anyone can tell me where the beer aisle is at Rouse's, I'll have one with you.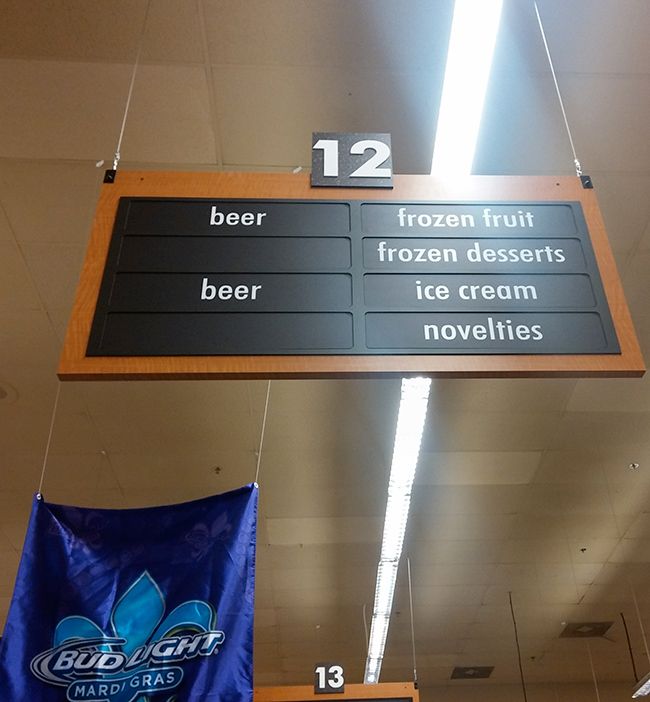 Rose was better enough to go out on mardi gras day. But of course, even tho it was one of the latest dates mardi gras can be, it was like 48 degrees and rainy. But we're all troopers.
We parked at St. Patrick's and waited for a cab there to take us to Pal's. A handful passed by but didn't want to pick us up. We called for one, and they said they'd be right there…they were at the Clearview exit (all the way out in Metairie). We waited. While we waited, a lady, probably nearish our age, walked by and got into her car, which was parked in front of St. Patrick's. She then drove up to where we were, and asked where we were trying to go. I told her Pal's, and she said, oh ok my brother lives near there I'll take you. Luckily she had a big SUV, and seemed nice enough to not kill us. So we got in and she took us there. We learned that her brother is the good samaritan who was killed a year or two ago while trying to save someone who was being car jacked in Algiers. When we got to our destination, I tried to give her money, but she wouldn't take it. So I just put it on the seat and closed the door when we said goodbye. So we're standing there, talking to some of bikeus, and she pulls up a little and talks to another bikeus person (hi barbie!), and then leaves. Barbie comes up to us and hands us the money and says, "that lady said to give you this?" HA. Sneaky.
In case you can't tell, I'm Rose and Rose is me.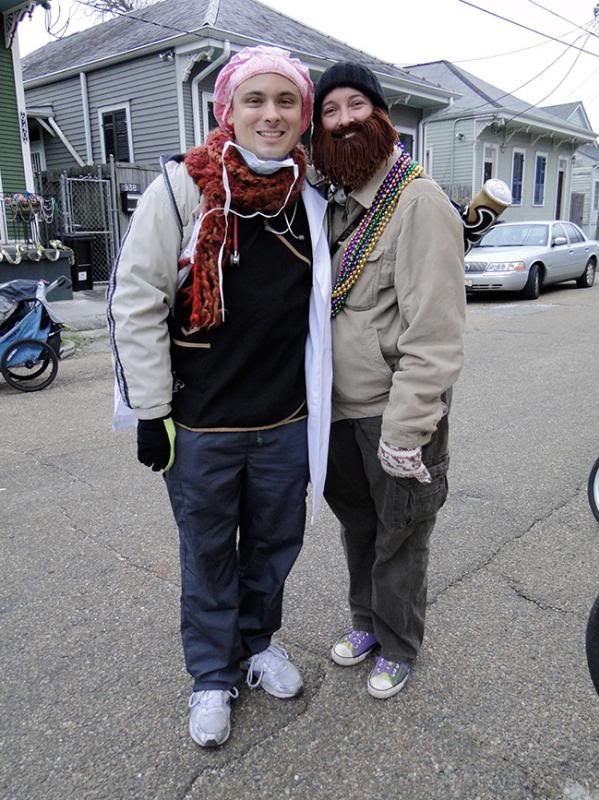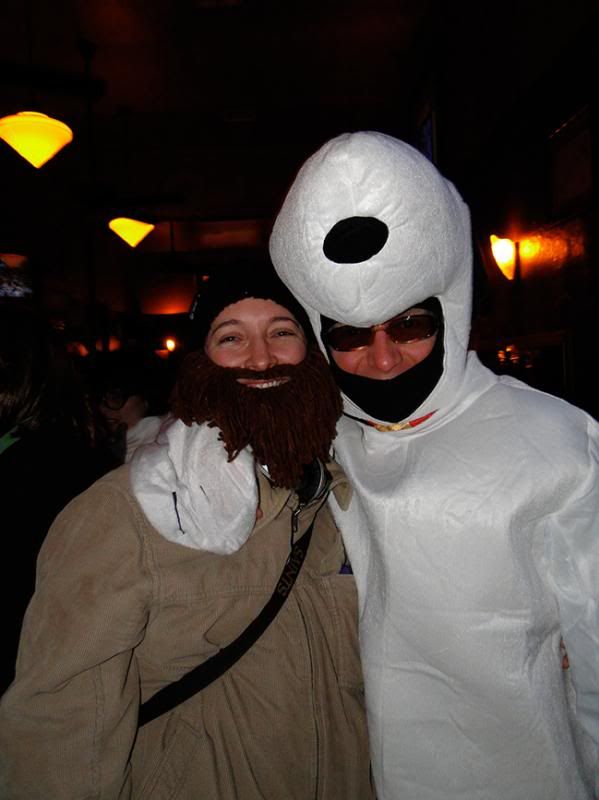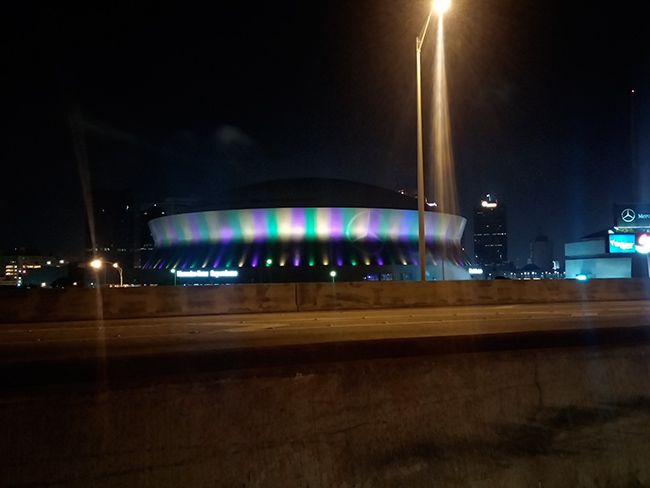 Sadly it was all soon over, and we went back to Gville.
Last 5 posts by jeff