Wow. It's been 3 months since I posted anything. Time flies.
(This paragraph written June 18…sheesh) First a little comment about the blog. Early Friday morning I had an email that my hosting was ready. Which was weird cuz I've had the same hosting since we started this thing 3 years ago. So I looked at it the next morning, and the site wasn't loading right. Or at all. I also noticed I couldn't ftp anything, because I wanted to back up the latest parts of the site. So I called while waiting in the airport for 5 hours (more on that later), and they said it was just normal maintenance and I should be back to normal later that day. Well after all day of traveling, and working that night, and doing the bridge run that morning, after Rose left, I called again. Told them about the email, and the conversation the day before. He looked into it some more and noticed that a neighbor on the shared server I was on had run a script and caused some problems, and I was affected by that. Great. So they could fix it, but it would take a few days. Or, if I wanted, we could move me over from Windows to Linux (yes please!), and that would be easier and faster…only problem would be I'd lose all my site stuff. I'd have to set it all up again. But I know what I'm doing, and I have it all (mostly) backed up, so it won't take me that long to get it all together again. I had just exported my wordpress database (in lay terms, basically the heart and soul of this blog…everything I've ever posted, its structure, look, etc) in the airport while I was actually able to get in, and, while on the phone Sunday, I said, oh, let me make sure i have one more thing backed up (the guestbook from our original site, the wedding site). Then we reset it, and got it all up and running again Sunday night and Monday. And some of today. But what dummy (me) didn't think of, was, a LOT of the wedding site (including the guestbook) was in the other database I had (not the wordpress one), and strangely, one that, in the 3 years of having this thing, I NEVER FREAKING BACKED UP. I find that hard to believe, but whatevz. So, bye bye online wedding guestbook. Oh well. I emailed them to see if there's any way they might have some kind of backup of that even if the account was cancelled/moved. I'm not holding my breath, but hey it can't hurt to ask. UPDATE at the end of typing this entire blog: Yeah, i can get it back. If I let them know within 30 days of changing, and if I pay them $150! Anyone wanna get a kickstarter going? 😛 So yeah. Whatever. Anyway… Also lost were a bunch of pictures, cuz they just take too long to download and back up, and I have them all on my computer and backed up on drives (gotta do that again soon), so no biggie. At least I have the main posts…and some with pictures. Speaking of pictures…in the process of re-linking some of the pictures that I did have backed up, I noticed how much I posted when we first started this thing. It's crazy to compare that to now!
But enough tech talk. Let's get to the fun!
It was the middle of April the last time I was in Florida. Now it's the middle of June. As a matter of fact, it was just about 2 months to the day since the last time I was here. What's been going on in between??
On April 6, before leaving for FL again, I did the first of three of the "bridge run series," three 5k runs over the three bridges that cross the Mississippi River in the New Orleans area. Those completing all three receive a special medal (which I'm still waiting for). I did this one by myself, but Rose would be in town for the other two.
Then I went to Gainesville for the normal visit, and when I left G-ville, I went to work with Munck Mix (Jazz Fest Live) at Wanee Music Fest, about an hour north of here. Had a great time, but it was stupid cold. Why did I need 4 layers and pants in late April in Florida?! And it rained Friday night. Good thing I didn't have much to do Friday night. My favorite set during the day was definitely Michael Franti. I liked his songs and he definitely works the crowd. Seems like a good guy. Saturday night my last "job" was to record Galactic and Friends at midnight. The last show of the fest. It was a good one. That went until about 2am. While killing time before the show, I was walking around with my beardhead on (since it was cold), and behind the soon-to-be Galactic stage, this dude says to me, "Hey Rabbi, how's it going, Rabbi?" I just laughed and said something like, "Oy, shalom my son" and kept going. Later, that guy got on stage and played drums for a few songs. Turns out it was the current, and original, drummer from Lynyrd Skynyrd. Ha. Anyway, despite the rain and the cold, I had a great time. You can see pix here if interested.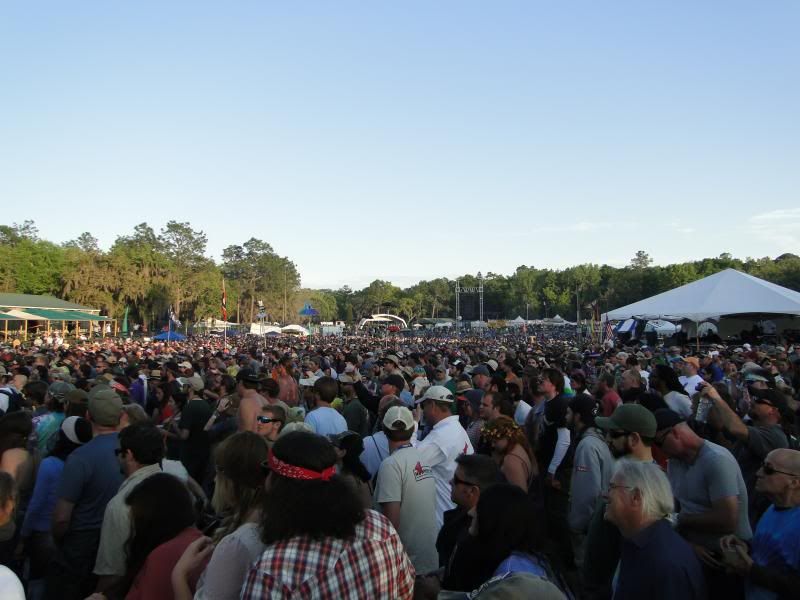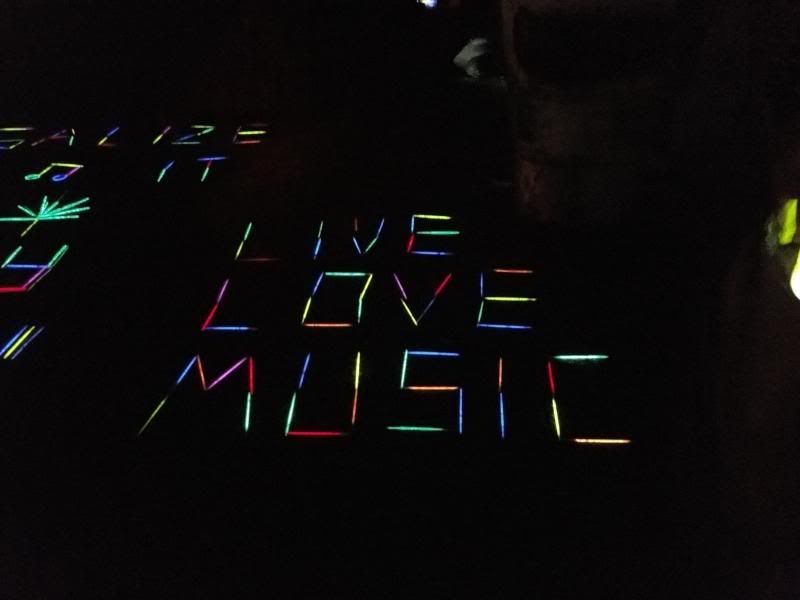 Headed home Sunday for NOLA, and Jazz Fest started Friday. Worked again with the Munck Mix guys every day of the fest, and Carrollton Station every night, Friday – second Saturday. Even did a city park gig the Thursday between. And the Threadhead Patry on the Tuesday in between. Yup, it's the one time of year I can just keep going. Lots of good shows, lots of good fun, lots of good people. I should really blog closer to when the fest is over, because really, nothing really stands out this far down the line. Actually, lots of stuff stands out, but it's one big blur. If I had to pull a few things off the top of my head, it would be the Jazz Fest Live golf cart breaking down halfway around the track (ran out of gas, and there's no gas gauge, duh) (and yes, I got to drive the cart a lot this year), solving recording problems either remotely or by delegating while watching Mute Math, the one full set I wanted to see and succeeded in seeing during the whole fest, hustling up a second rig for a stage that found out within like 15 minutes of the set that we were gonna need more than 24 channels, and staying dry the whole time during the rainy first Sunday…except when I had no choice and had to leave to go work at the station. Probably the wettest I've been fully clothed in my entire life. I had to walk to my bike, and then ride to my car. Sheesh. Oh yeah. And on the way from my car to my bike parking spot on the first Friday…FIRST DAY… my bike got a flat. Thankfully a Jazz Fest Miracle occurred, and I was able to leave early enough to get to the only bike shop that was open past 5pm…on Frenchman Street… and get a parking spot right on the corner. Miracle, indeed. After working with the Munck Mix guys all week, and indirectly with Mike Mayeux and some other folks I had worked with before, I got to spend the rest of second Sunday night (until about midnight) helping Mike and co break down all their stuff. Pictures here.
Jimmy Cliff: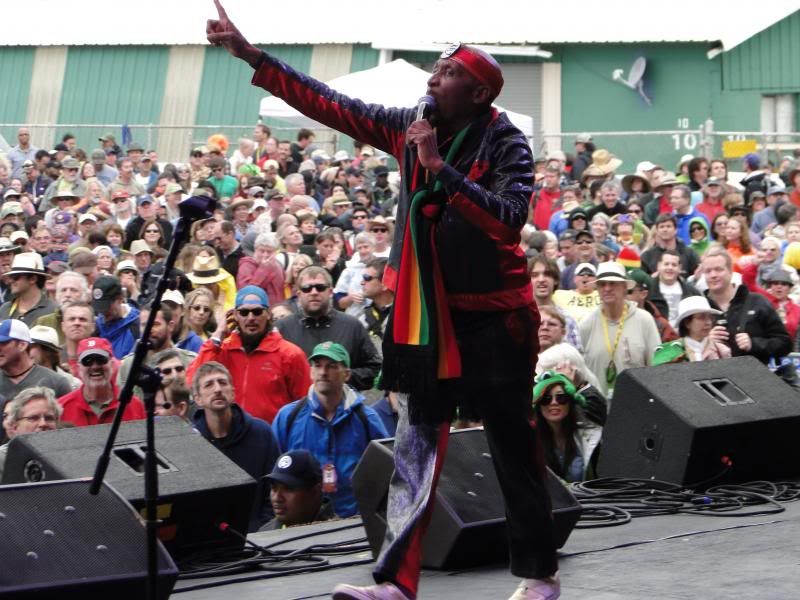 Griff: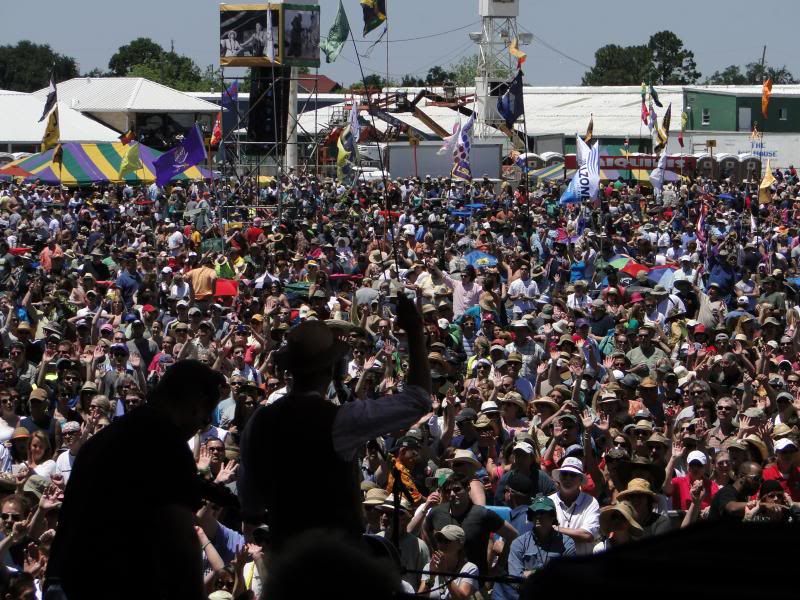 Mute Math: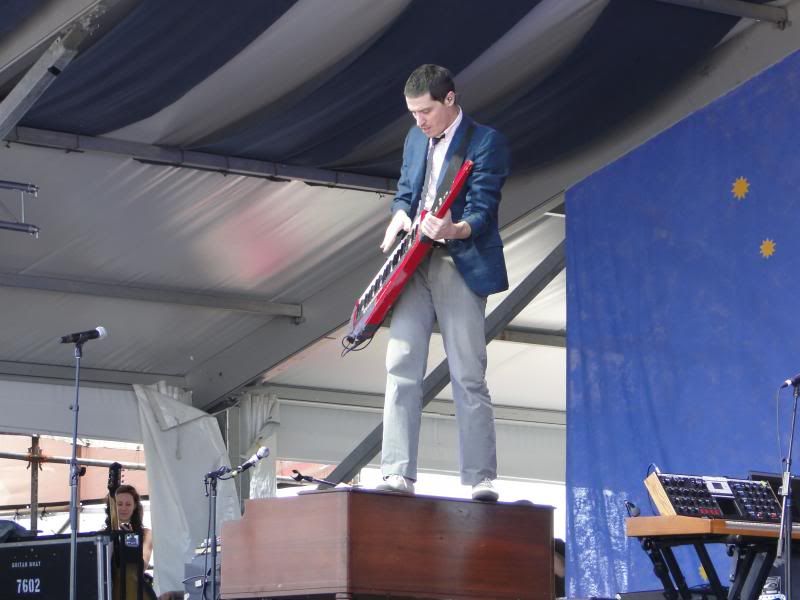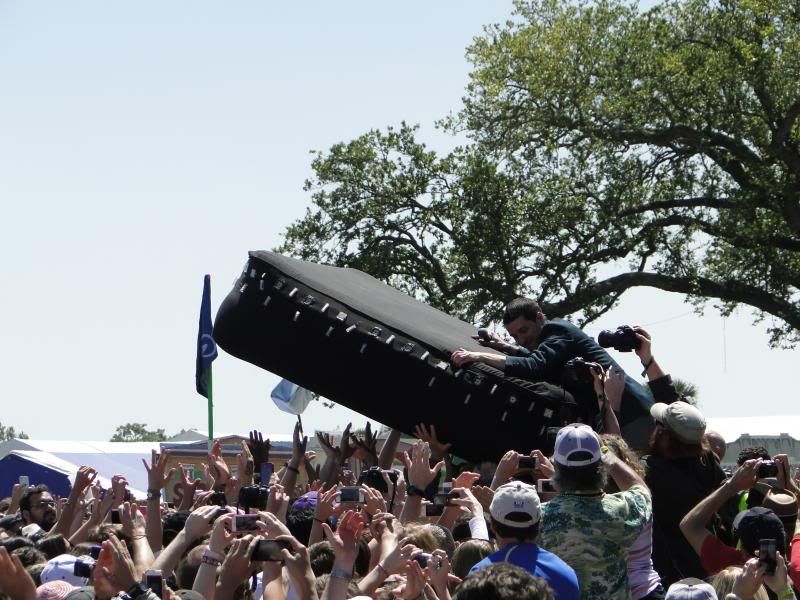 Out of the Mouth:

Susan Cowsill Band:

Aaron Neville:

Ritchie, Smiley, and me: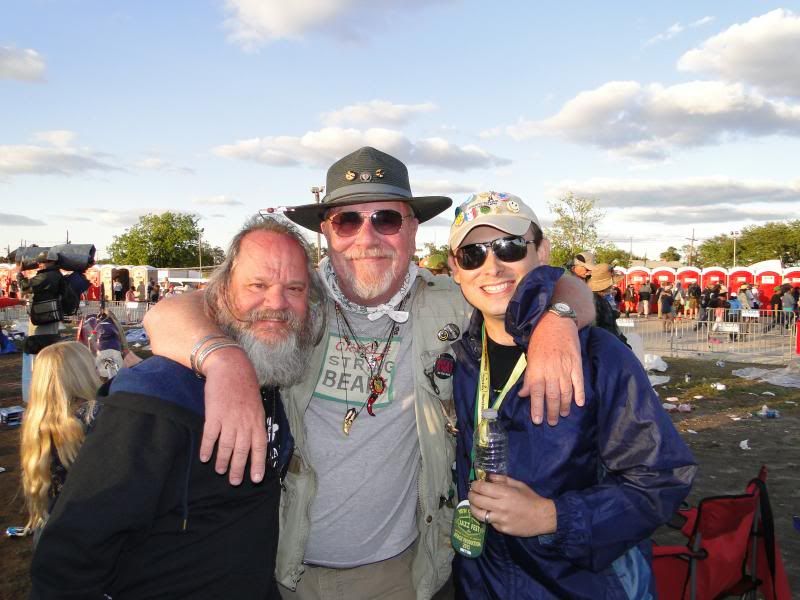 Mayeux and krewe: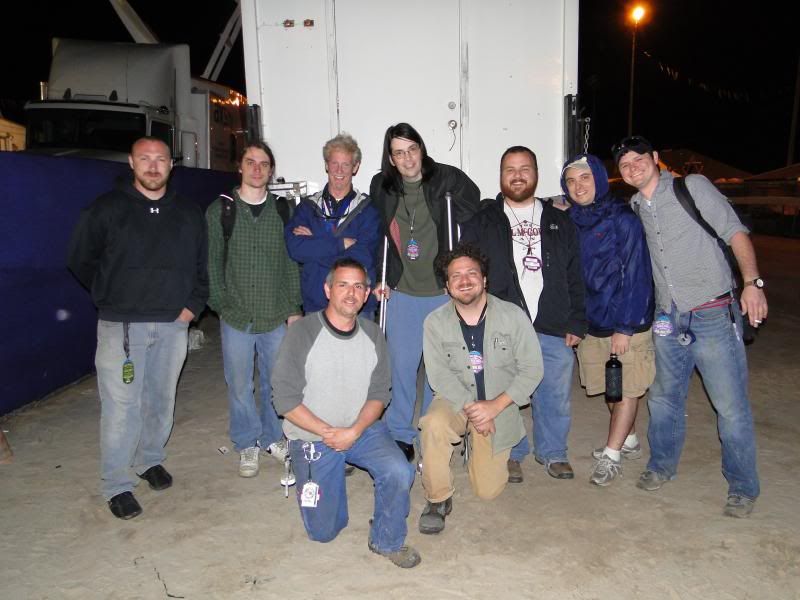 Since Rose was off to study for her board exams, I convinced her to leave Florida and come study in New Orleans, since this time it was my schedule that was crazy. So she came in town either the Thursday or Friday in between…don't remember which…I think Thursday… and stayed didn't go back until June 16!
But a lot happened in between Jazz Fest and Rose going back to Florida.
For example, we went to the Hangover III Premiere in L.A., completing our Hangover screening/premiere trilogy. We booked some almost last minute flights (got some good prices for last minute flights to California), accidentally found out about Airbnb from our friend Monya, and found a great place to stay that was very reasonably priced, and really close to where (we thought) the premiere was gonna be. If you're ever in the Hollywood area, you should look him up – Stephen's place. The premiere wasn't at the Chinese Theater this time, it was at the Fox Theater in Westwood, but that wasn't a problem. We didn't have a car this time, but thanks to our airbnb host, found out about Lyft, and used that when we needed to get somewhere.
Well, we did have a car when we got there, but just for a day and a half to go to the beach in San Diego, where we found these weird alien creatures.
Rose studied a lot, even on the beach, and then we went to L.A.
The week before we left I got an email that goes to the email list of Bill Berry, a guy that used to be in Brown, the improv comedy troupe I had done backstage stuff with for years. He's now out there doing music, and had a songwriters' square the first night we were in L.A., so of course we attended with our friends Monya and Ryan.
Monday morning we went to Runyon Canyon park, where we walked a lot.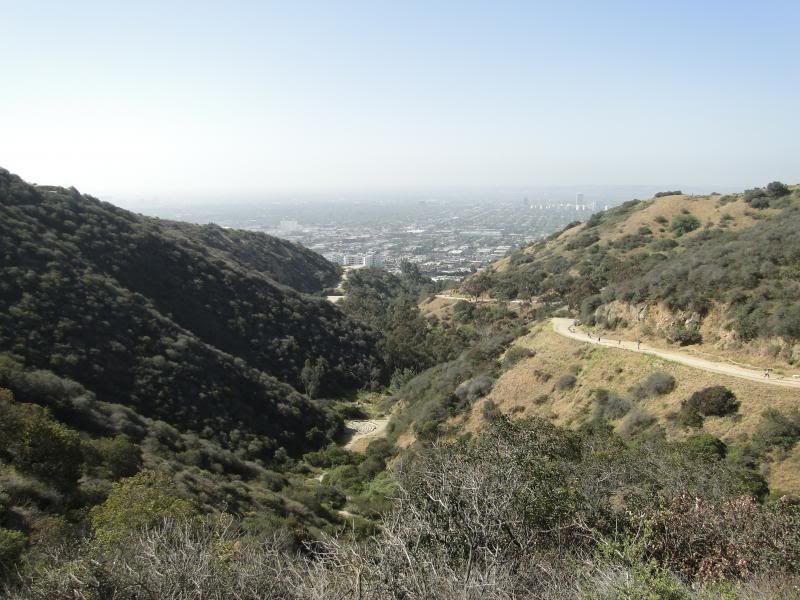 We walked back to our place, rested a little, studied a little, and went to the premiere. We didn't sit behind Mike Tyson this time, but everyone who was there as Ken's guests were people we knew, except for one couple we sat next to, who we know now (it was Kevin Shea from The Kims of Comedy). It was good to see all those people again.
Us before the premiere: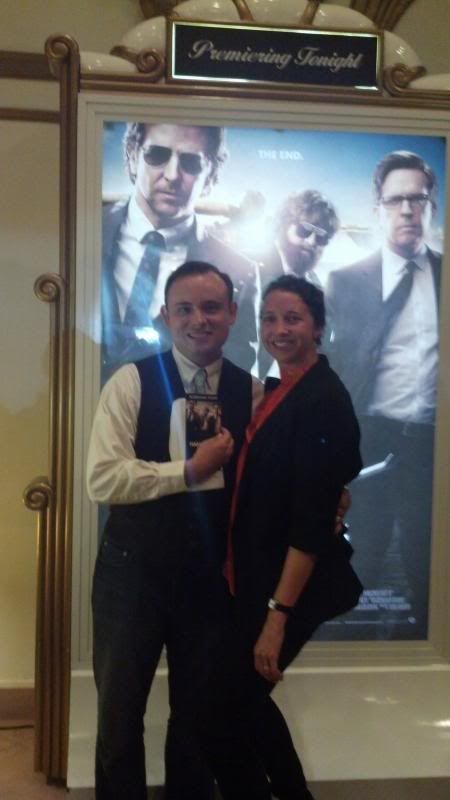 The after party:

These were real people:

Now, I'm not really one to go up and be a "hey can i take my picture with you" kinda guy, but it was near the end of the night, and there wasn't much going on, and I had had a few patroncicles (fruit pops mixed with patron), so I went up and asked if we could have a picture. I had a feeling that the first one didn't come out, because the phone camera flashes twice, and the guy taking it was giving us back the phone as it took the second flash. So we thanked him, started to walk away, and I looked and saw that it was indeed blurry. So I'm definitely not a bother-someone-twice kinda guy…but I wasn't gonna let this go. We turned around, I profusely apologized, and explained, and asked if we could take one more. And of course he said yes! 🙂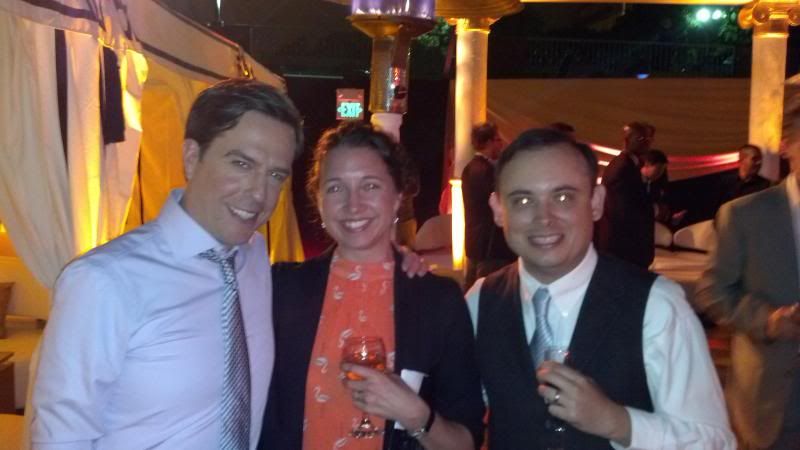 And here's the group of Ken's guests: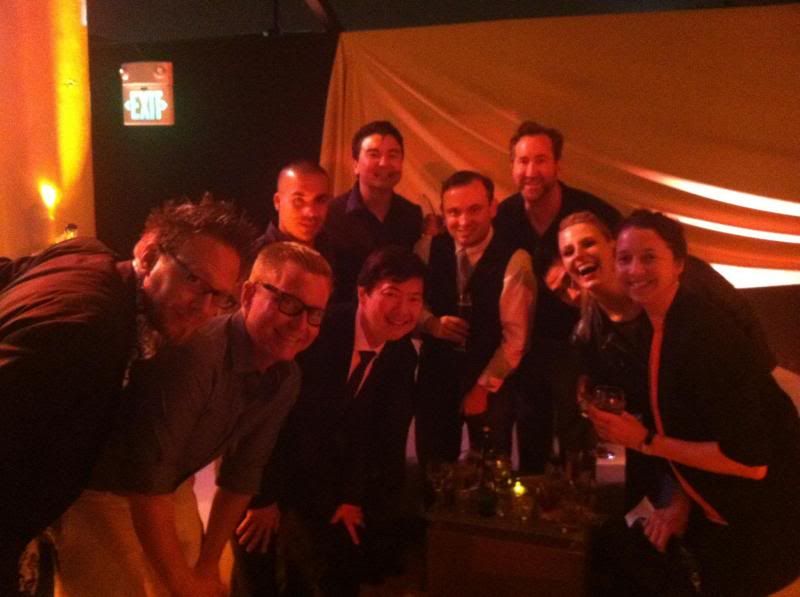 It was great to reminisce with Mike O. too.
Later when we were leaving, and telling Ken goodbye, Ed walked over to tell Ken goodbye. Ken introduced us to Ed, and Ed said, "Yes, we've met! We took some pictures together." 😀 Then soon after Justin Bartha and his fiance walked up, and Ken introduced us to him. If the right moment had come up I woulda asked for a group photo, but it didn't, but that's ok. We got the one with Ed, and our group photo up there, so I was happy. Then, sadly, it was time to leave. We caught a Lyft and went home.
We killed time in Hollywood while waiting to go to the airport. Which is to say, I killed time walking around and taking pictures, and Rose killed time…..studying! Go fig. 😉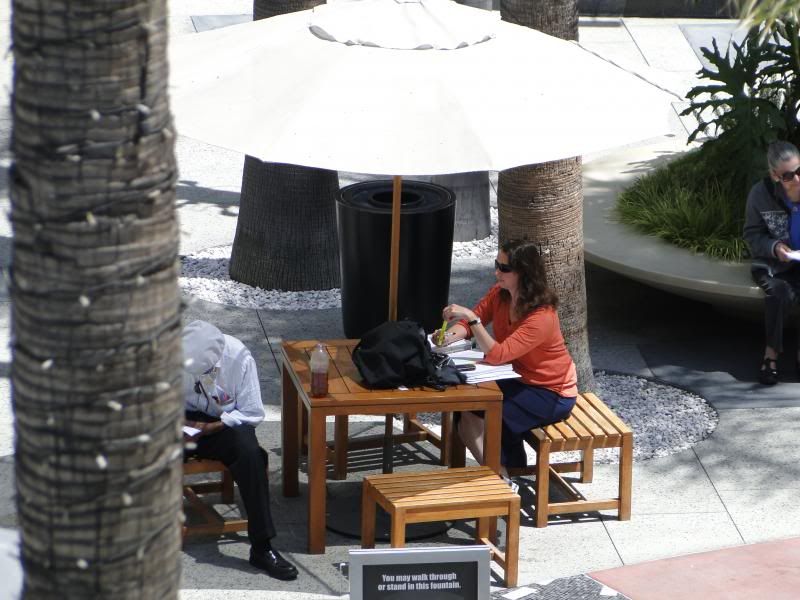 You can find the full album here.
Then Rose studied for another few weeks, and I had a birthday, and we did the next in the bridge run series the day before leaving for Seattle. Oh yeah. There was another 5k in there that Rose was supposed to do with me but was sick, the Fat Boy 5k. Post-race food included donuts, beer, snow balls, pizza, pulled pork sandwiches, hot dogs, you name it.
The one the day before we left for Seattle was in the evening, and was actually 4 miles. This bridge was (controversially) a toll bridge, but that had recently been changed, so they just blue-taped over the "TOLL" part of the sign.
Then it came time to go to Seattle and take the test. We were supposed to get in around 9 Sunday night, but because of weather delays in Houston, we didn't get in til around midnight. We got our rental car and headed to our airbnb.
Monday, thanks to a suggestion from Pamela, we had lunch at Beecher's cheese, where you get to watch them make cheese.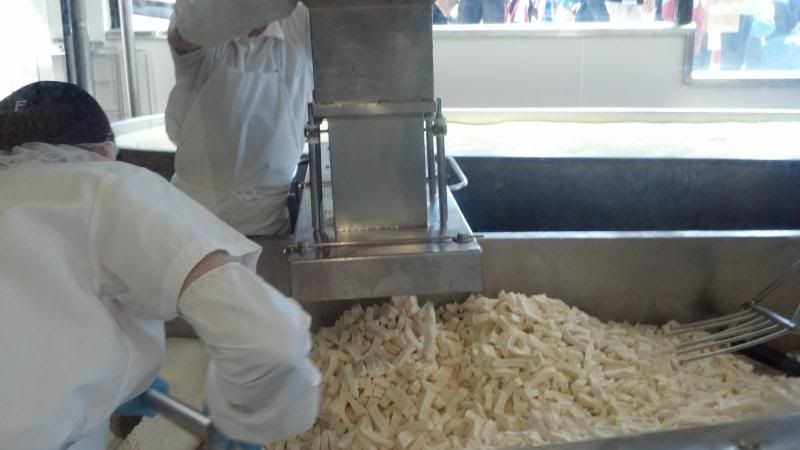 For dinner, thanks to a suggestion from Jake's people, we went to Ma'ono Fried Chicken and Whisky. Delicious. Everything. Especially the popcorn ice cream.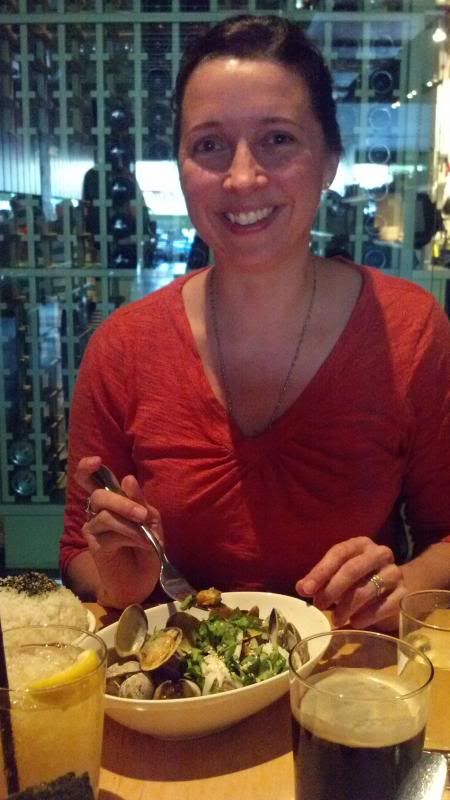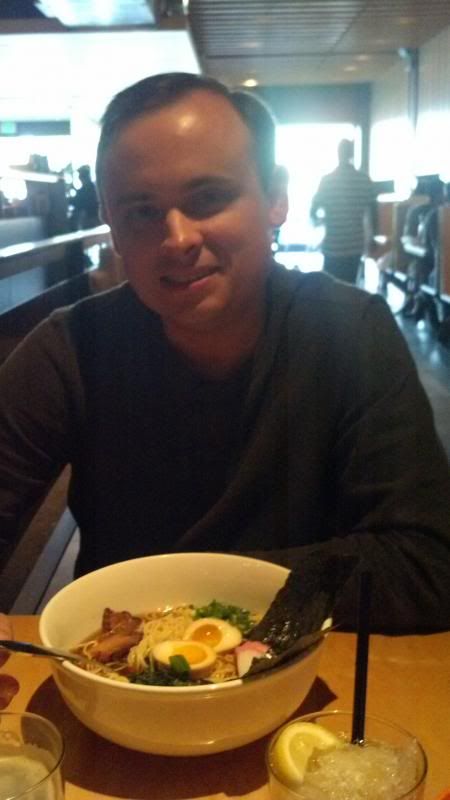 Tuesday morning, Rose took the first half of her test, then we had lunch. I took a picture with a giant pig. It reminded me of Daisy.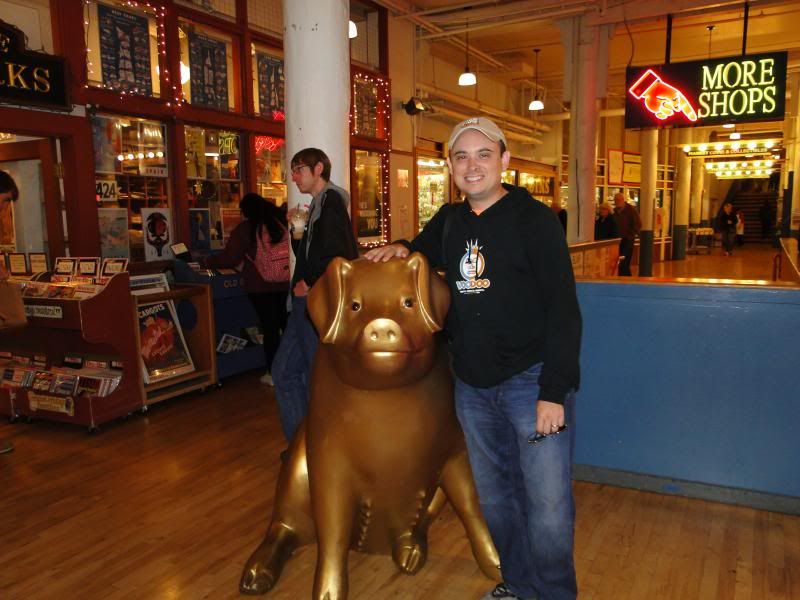 Then Rose went back to take the second half of the test. I stayed downtown, eventually went to a place with a bunch of beer on tap, and waited for Rose to get done. As you may have seen in a status update, Better Than Ezra came on the radio there and Ken called right before Rose called to say she was done, so that was pretty awesome.
Wednesday we walked around Lincoln Park, which was right down the street from where we were staying (not to be confused with Linkin Park…). Keep in mind, this is JUNE.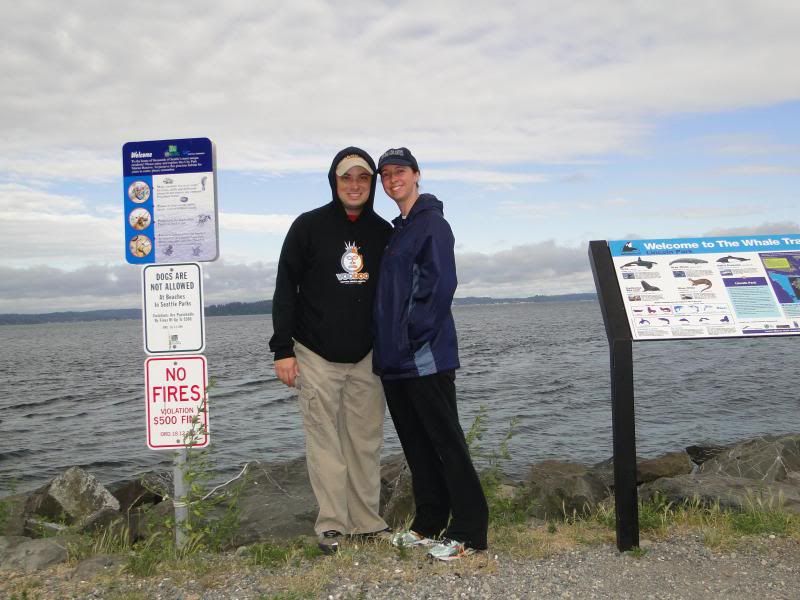 Later we went to see This Is The End (awesome), and went to the World of Beer, next to the theater. And as you also may have seen in a status update, the first song that I heard there was Eric Lindell.
Thursday we walked around downtown and went to the space needle. Not in it, cuz we didn't feel like paying admission, but at least we went to it.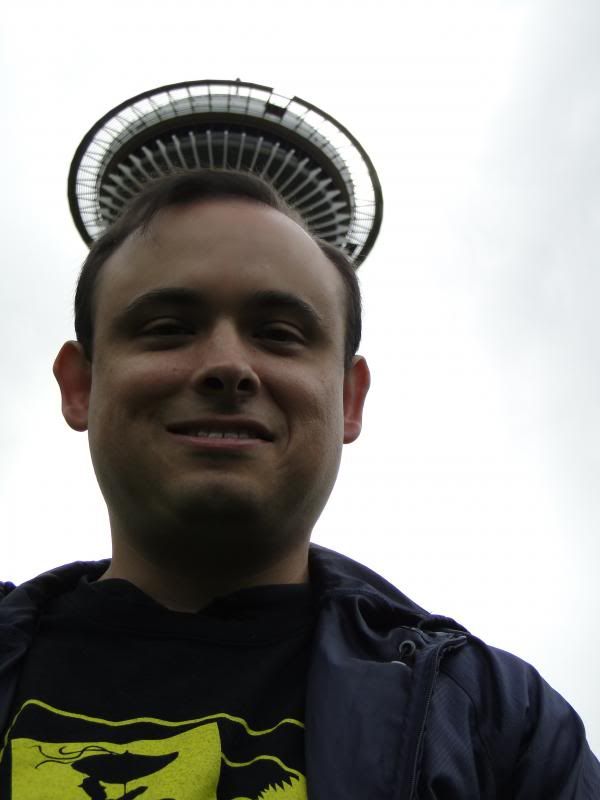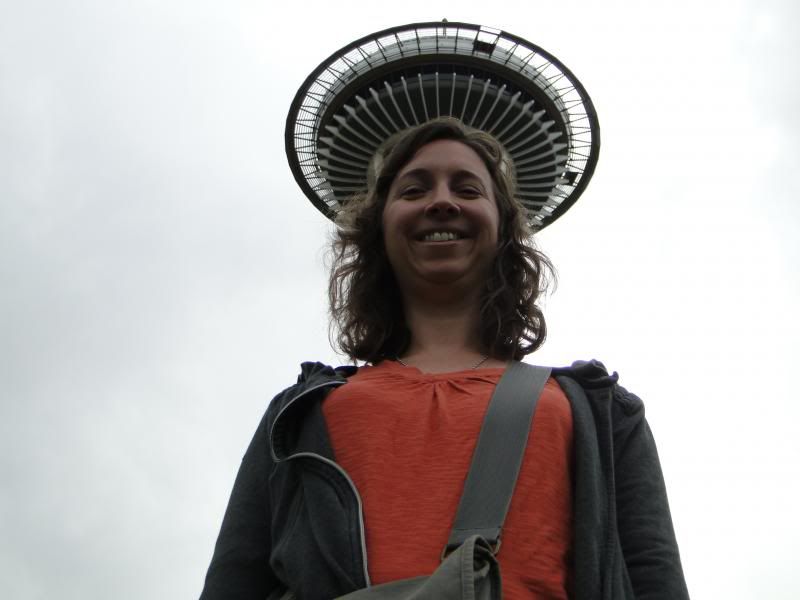 We're goofy.
We had lunch, and then went outside and fed the seagulls. I coulda done that all day! Some of them are brave enough to take it right out of your hands.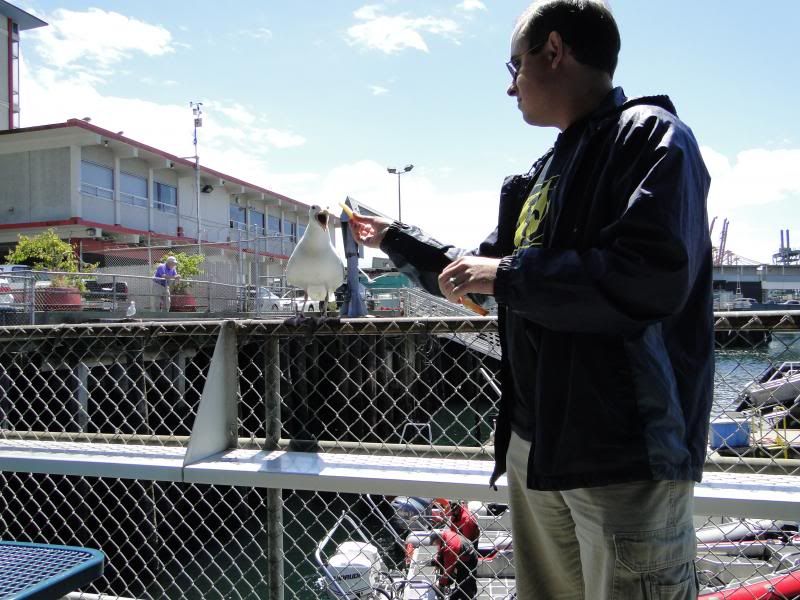 Friday we went on a hike to hot springs. It was a 45 or so minute drive on normal road, then a 15 mile drive on unpaved road that takes like 2 hours, then a hike in the woods for about 4.5 – 5 miles. It wasn't as bad as it could've been, cuz there wasn't a lot of uphill. 🙂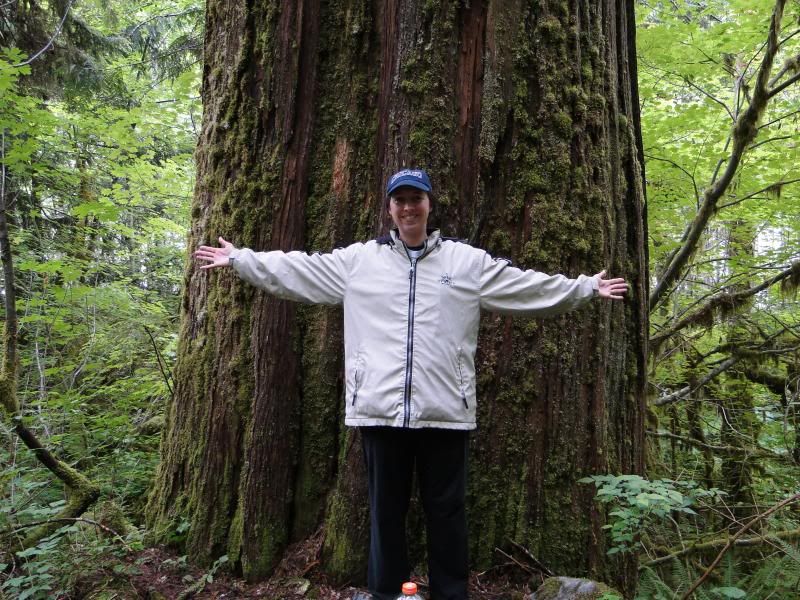 Once you get to the springs, there are 3 "stacked" pools, which each getting warmer as you go up. It was awesome!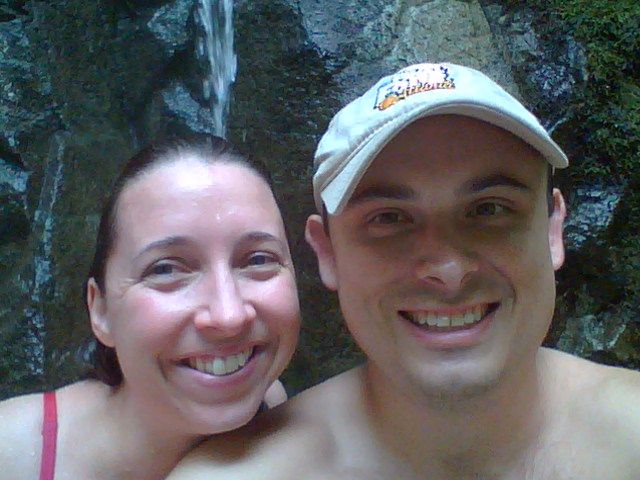 By this time of day, the weather was really nice. But up there, at the top? Yeah. That's snow. No thanks!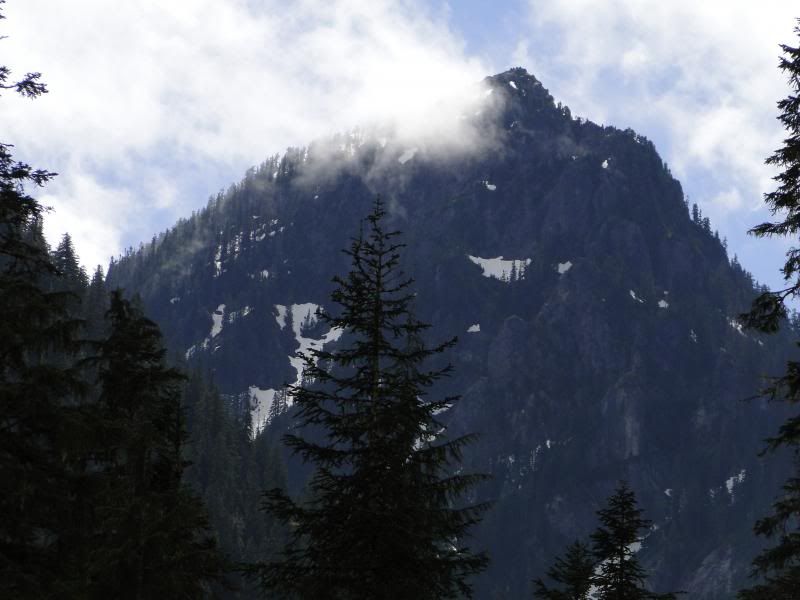 You can see the full Seattle album here.
We went back, had dinner at Zeeks Pizza, and went to bed early to catch our 7am flight….
We left the house around 3:45/4:00am. While on the shuttle from the rental car drop off to the airport, I look at my phone, which said our flight was at 7. I opened up another app, and uh oh, the flight is at 6! Ok, so this is probably my fault for not double-checking earlier. And I'm sure I was notified of this change. But it hit me like a ton of bricks, because this was 4:55 that I realized this, and we were on the shuttle and almost at the airport. No problem, we're not checking bags, so we'll just check in at the do it yourself computer and be fine. WRONG. When we got to the do it yourself computer, it was like, 5:02. Since it was less than an hour before the plane left, we couldn't self check-in. UGH. So then we waited in line to change flights another 20-25 minutes, which changed our flight to 10:42 (yes, 5 hours later), which would get us to New Orleans at 6:50pm (and I was doing a gig that night). After going through security, we get to our gate (which is only 8 gates away from our original gate), and we hear, "this is last call for passengers xyz" FOR OUR ORIGINAL FLIGHT!!! Dude. We coulda made that crap. Even with the waiting in line. And we TOTALLY coulda made it if we had been able to check ourselves in. STUPID AIRLINE POLICY. So yeah. We made it home, 3 hours later than planned. I ate, and went straight to Carrollton Station.
Sunday morning we woke up and did the final bridge run, across the bridge that used to be 18′ wide, two lanes, with no shoulders. It was expanded to be a "real bridge," and the run was part of the "opening ceremonies" for the new bridge. (www.hueyprun.com)
And here's all the various race swag.
And now I'm finsihed this post, as well as, unfortunately, almost finished this trip to g-ville. Hopefully Swamphead and Margaritas for dinner, and then I leave tomorrow morning to work Wednesdays on the Point in Algiers on Thursday (yes, wednesday on thursday. since it's the 4th and all.)
Last 5 posts by jeff